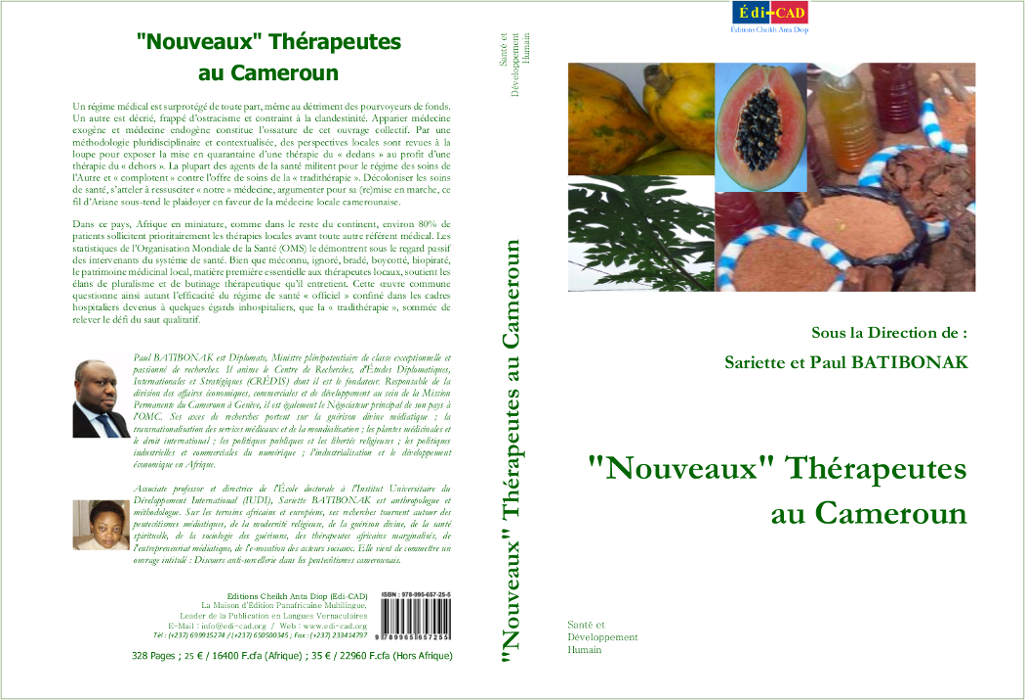 A medical regime is highly protected in all corners even to the detriment of money donors. Another is to describe, strike with ostracism and constraint to clandestinity. Exogenous medicine and endogenous medicine constitute the ossature of this collective book. Through a pluri-disciplinary contextualized methodology, local perspectives have been received to expose the placing a therapy in quarantine "inside" to the benefit of a therapy "outside". Most of health agents supporting the regime of care to another and "complotting" against the supply of "traditherapy" care. Decolonize our health care, focusing on raising "our" medicine; argue for it to come back, this back thread sustains the pleading in favor of Cameroon local medicines. In this African in miniature country just as in the entire continent, about 80% of patients first of all solicit local therapies before any other medical reference. The statistics of the world health organization (WHO) demonstrate in a passive regard the intervention of health system. Though it is unknown, ignored, sold, boycotted, biopirated, the local medicinal heritage which is the essential raw material to local therapeutics sustains the unfolding pluralism and the therapeutic practice which it entertains. This common work equally questions the effectiveness of the "officers" health regime which is confined in the hospital frames and has even become inhospitable that the "traditherapy" is now trying to lift up the quantitative challenge.

Paul BATIBONAK is a diplomat, plenipotential minister of exceptional class and passionate by research. He animates the research center, Diplomatic, International and Strategic studies (CREDIS) and he is the founder. He is in charge of the division of economic, commercial and development affairs within the permanent mission of Cameroon to Geneva; he is also the negotiator of his country to WTO. His research axes are on mediatic divine healing; the transnationlisation of medical services globalization; medicinal plants and international right; public policies and religious freedom; industrial and commercial policies of numerical; industrialization and economic development in Africa.
Associate professor and directress of the doctoral school in the university institute of international development (IUDI), Sariette BATIBONAK is an anthropologist and methodologist. On the African and European fields, her researches center around mediatic Pentecostalism, religious modernity, divine healing, spiritual health, sociology of healings, marginalized African therapeutics, mediatic entrepreneurship, the e-novation of social actors. She has just come out with book titled: Anti-sorcery discussions in Cameroon Pentecostalism.
Title
:

"Nouveaux" Thérapeutes au Cameroun

Authors
:

Sariette et Paul BATIBONAK

Editor
:

Editions Cheikh Anta Diop

Collection
:

Collection Santé et Développement Humain

ISBN-13
:

978-9956-657-25-5

ISBN-10
:
EAN
:
Language
:

French

Number of pages
:

328

Dimension
:

25,5 X 18 cm

Publication date
:

05 december 2017

Price
:
Africa :

16 400 F.cfa / 25 €

- Out of Africa :

22 960 F.cfa / 35 €

Order the book