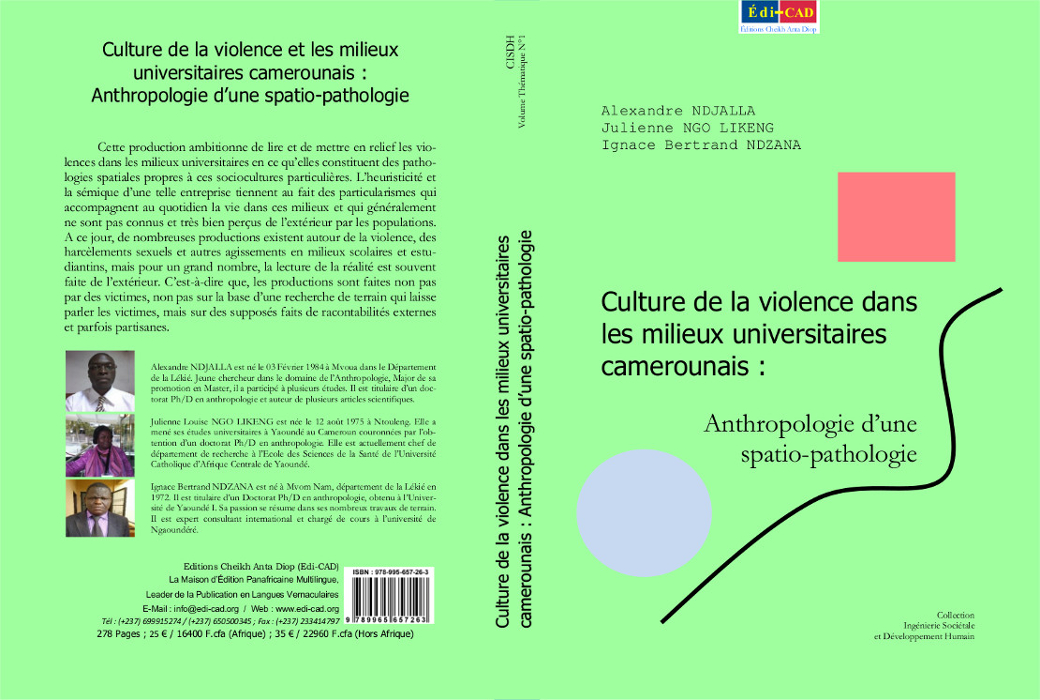 This production aims to read and brings out violence in the university milieu which constitutes a real spatial pathology to these particular socio-cultures. The heuristicity and the stay of these practices are still exercise on daily bases in these milieu and they are generally not known and understood from outside by the populations. Till date, many productions exist around violence, sexual harassment and other agitation in the school milieu but to a great number, the reading of the reality is often made from outside. That is, the productions are made not by the victims, not even on the base of field research which makes victims to speak, but on the supposed deeds which are circulating outside and are even touching.
Allexandre NDJALLA was born on the 03rd February 1984 at Mvoua in the Lekie division. Young researcher in the domain of anthropology, best in his Master's batch, he has participated in many studies. He holds a Ph.D degree in anthropology and author of many scientific articles.
Julienne Louise NGO LIKENG was born on the 12th August 1975 at Ntouleng. She did her university studies in the University of Yaounde-Cameroon and obtained a Ph.D in anthropology. She is presently head of research department in the school of health sciences in the Catholic university of central Africa-Yaounde.
Ignace Bertrand NDZANA was born in Mvom Nam, Lekie division in 1972. He holds a Ph.D in anthropology, obtained from the University of Yaounde 1. His passion is summarized in his multiple field works. He is international consultant expert and in charge of speech at the university of Ngaoundere.
Title
:

Culture de la violence dans les milieux universitaires camerounais : Anthropologie d'une spatio-pathologie

Author
:

Alexandre NDJALLA, Julienne Louise NGO LIKENG, Ignace Bertrand NDZANA

Editor
:

Editions Cheikh Anta Diop

Collection
:

Collection Ingénierie Sociale et Developpement Humain

ISBN-13
:

978-9956-657-26-3

ISBN-10
:
EAN
:
Language
:

French

Number of pages
:

278

Dimension
:

25,5 X 18 cm

Publication date
:

28 january 2018

Prix
:
Africa :

16 400 F.cfa / 25 Euros

- Out of Africa :

22 960 F.cfa / 35 €

Order the book