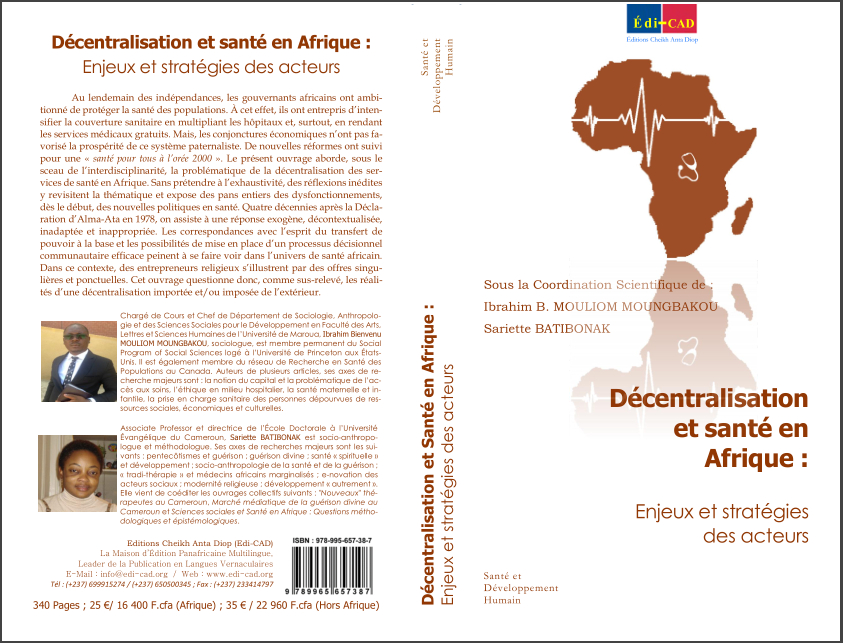 In the aftermath of independence, African leaders set out to protect the health of populations. To this end, they have undertaken to intensify health coverage by multiplying hospitals and, above all, by making medical services free. But the economic situation did not favor the prosperity of this paternalistic system. Further reforms followed for "health for all by early 2000". This book approaches, under the seal of interdisciplinarity, the problematic of the decentralization of health services in Africa. Without pretending to be exhaustive, novel reflections revisit the theme and expose whole areas of dysfunctions, from the beginning, new policies in health. Four decades after the Alma-Ata Declaration of 1978, there is an exogenous, decontextualized, inappropriate and inappropriate response. Correspondences with the spirit of the transfer of power at the grassroots level and the possibilities of setting up an efficient community decision-making process are hard to be seen in the African health universe. In this context, religious entrepreneurs are illustrated by singular and punctual offers. This book therefore questions, as noted above, the realities of decentralization imported and / or imposed from the outside.
Lecturer and Head of Department of Sociology, Anthropology and Social Sciences for Development in Faculty of Arts, Humanities and Sciences of the University of Maroua, Ibrahim Bienvenu MOULIOM MOUNGBAKOU, sociologist, is a permanent member of the Social Program of Social Sciences housed at Princeton University in the United States. He is also a member of the Population Health Research Network in Canada. Authors of several articles, its main lines of research are: the notion of capital and the problematic of access to care, ethics in hospitals, maternal and child health, the health care of people without social resources , economic and cultural.
Sociologist and methodologist Sariette BATIBONAK is Associate Professor and Director of the Graduate School of the Evangelical University of Cameroon. His research focuses on African epistemology; the media, the mediological, the spiritual health. "New" therapists in Cameroon and media market for divine healing in Cameroon are his recent books on the theme of health in Africa.
Title
:

Décentralisation et santé en Afrique : Enjeux et stratégies des acteurs

Author
:

Ibrahim Bienvenu MOULIOM MOUNGBAKOU, Sariette BATIBONAK

Editor
:

Editions Cheikh Anta Diop

Collection
:

Collection Santé et Développement Humain

ISBN-13
:

978-9956-657-34-4

Language
:

French

Number of pages
:

340

Size
:

24 x 16 cm

Publication date
:

August 12, 2018

Price
:
Africa :

16 400 F.cfa / 25 €

- Out of Africa :

22 960 F.cfa / 35 €

Order the book