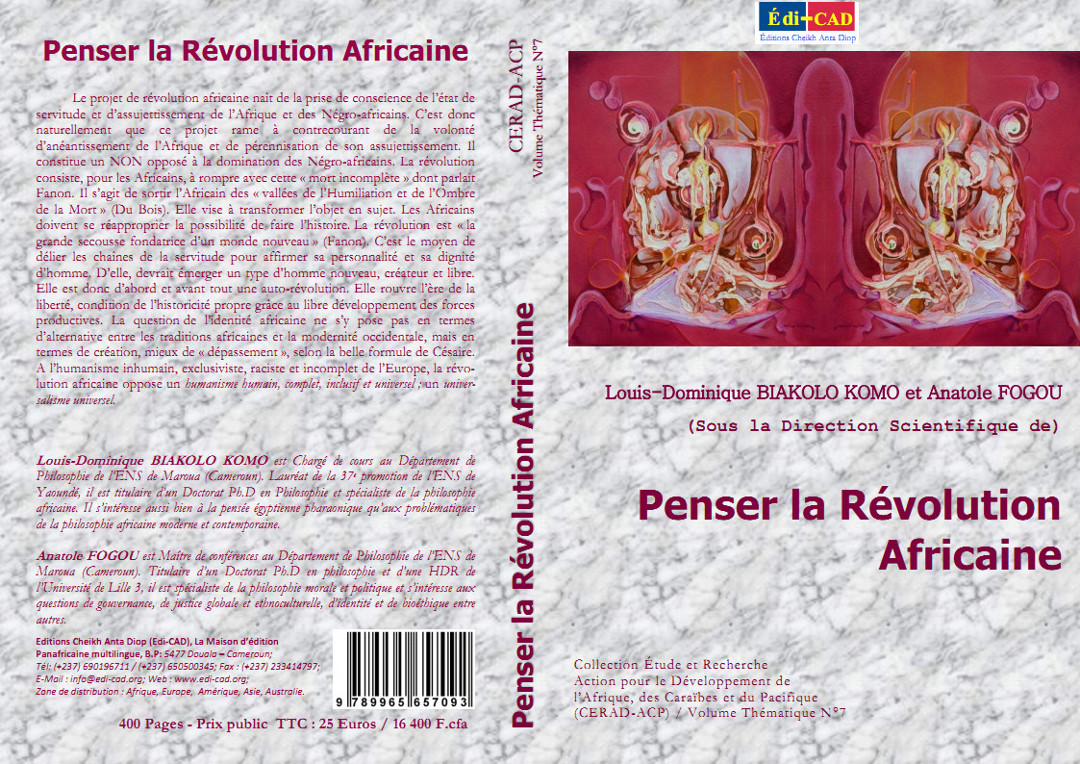 The project of African revolution came as a result of consciousness from the state of slavery and subjection of Africa and black Africans. It is there fore natural that this project goes against the will of nullifying Africa and making its subjection durable. It is also a non opposite of black Africans domination. To the Africans, revolution consists of rupturing with this ''incomplete death'' whish fanon was speaking. This means taking African out of ''the valley of humiliation and the shadow of death'' (from wood). It aims to transform the object to subject. The Africans must take back the possibility to make history. Revolution is ''the great shaking foundation of a new world '' (fanon). It is the means to untie the chains of slavery so as to affirm ones personality and his human dignity. A new type of man creator and free should have emerged from it. It is first and foremost a self-revolution. It opens the era of liberty, condition of real historicity under the favor of free development of productive forces. The question of African identity does not come in terms of alternative between African traditions and western modernity, but in terms of creation, ''outdating'' is better according to the formula of Cesaire. To the inhuman, exclusivist, racist and incomplete humanism from Europe, African revolution opposes a human, complete, inclusive and universal humanism; a universal universalism.
LOUIS DOMINIQUE BIAKOLO KOMO is a lecturer in the philosophy department of E.N.S-Maroua (Cameroon). Graduate of the 37th batch from E.N.S-Yaoundé, he is a holder of a PHD in philosophy and specialist in African philosophy. 
ANATOLE FOGOU is an associate professor in the philosophy department of E.N.S-Maroua (Cameroon). Holder of a PHD in philosophy and of a HDR of the university of Lille 3, he is specialist in moral and political philosophy and he is interested in questions of governance, global justice and ethno-cultural, identity and bioethics among others.


Title
:

Penser la Révolution Africaine

Authors
:

Louis-Dominique BIAKOLO KOMO, Anatole FOGOU

Editor
:

Editions Cheikh Anta Diop

Collection
:

Collection Etude et Recherche Action pour le Développement de l'Afrique, des Caraïbes et du Pacifique

/ Volume Thématique N°7
ISBN-13
:

978-9956-657-09-3

ISBN-10
:
EAN
:
Language
:

French

Number of pages
:

400

Size
:

15 X 24 cm

Publication date
:

April 14, 2017

Price
:
Africa :

16 400 F.cfa / 25 €

- Out of Africa :

35 €

Order the book