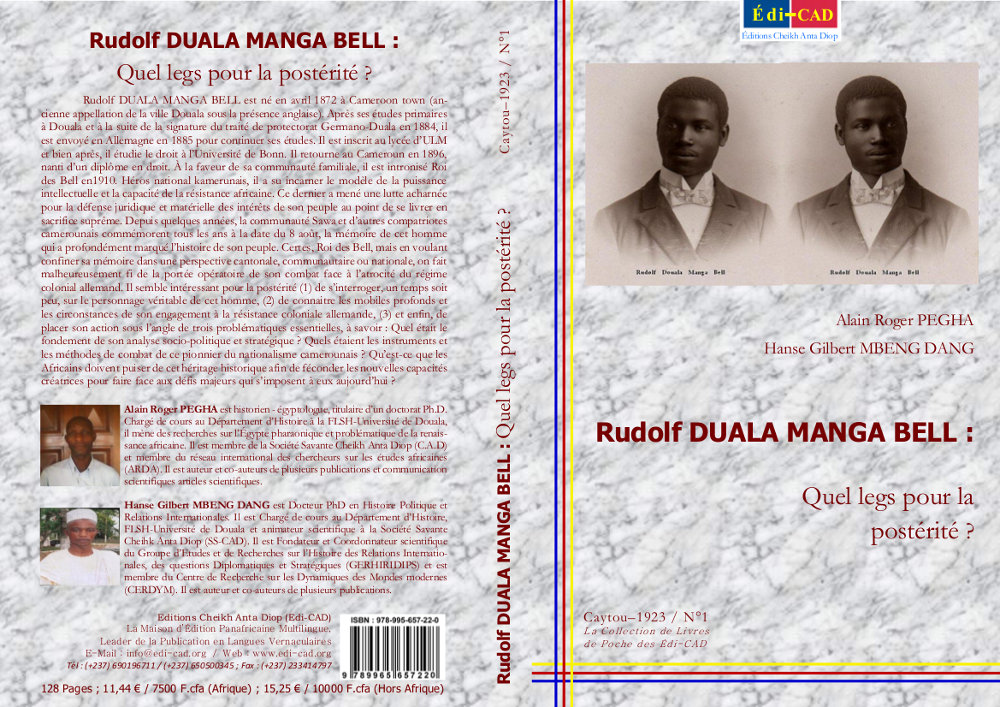 Rudolf Duala Manga Bell was born in 1872 in Cameroon town (former British appellation Douala town). After his primary studies in Douala and following the signing of the Germano-Duala treaty of 1884, he was sent to Germany in 1885 to further his studies. He enrolled in secondary school of ULM, later he studied law in the university of Bonn. He returned to Cameroon in 1896 having a diploma in law. He was enthroned King of the Bell in 1910 by the favor of his family community. Kamerunian national hero who real incarnated the model of intellectual power and capacity of African resistance. This latter waged a chain battle for the juridical and material defense of his peoples interests to the extend of giving himself as a supreme sacrifice. Since some years now ,the sawa community and other Cameroon compatriots commemorate yearly on the 8 of August, the memory of this man who profoundly touched the history of his people. It is true he was the king of Bell but by reducing his memory to the perspective of canton ,community or national, we unfortunately present only his operation in the fight against the atrocity of German colonial regime. It would seem interesting for the posterity (1) to question a bit on the real personage of this man (2) to know the profound reason and the circumstances of his engagement in the German colonial resistance, (3) and lastly, place his action under three essential problematic angles which are : what was the base of his socio- political and strategic analysis ? What were the fighting instruments and methods of this pioneer Cameroon nationalist? What can Africans take from this historic heritage so as to develop new creative capacities to face the major challenges they have today?
Alain Roger PEGHA is a historian - Egyptologist, Ph.D. Holder Lecturer at the Department of History at FLSH-University of Douala, he conducts research on the pharaonic and problematic Egypt of the African renaissance. He is a member of the Savante Society Cheikh Anta Diop (C.A.D) and a member of the International Network of Researchers on African Studies (ARDA). He is author and co-author of several publications and scientific papers scientific papers.
Hanse Gilbert MBENG DANG is doctor, PHD degree in political history and international relations. He is a lecturer in the history department, FLSH – University of Duala and scientific animator in Cheikh Anta Diop thinking society (SS_CAD), He is founder and scientific coordinator of study group and research on the history of international relations, diplomatic and strategic questions (GERHIRIDIPS) and he is a member of research center on the dynamics, of modern world (CERDYM). He is author and co-authors of several publications.



Title
:

Rudolf DUALA MANGA BELL : Quel legs pour la postérité ?

Authors
:

Alain Roger PEGHA, Hanse Gilbert MBENG DANG

Editor
:

Editions Cheikh Anta Diop

Collection
:

Caytou 1923

/ N°1
ISBN
:

978-9956-657-22-0

Language
:

French

Number of pages
:

128

Dimension
:

15 X 22 cm

Publication date
:

10/30/2017

Price
:
Africa :

7500 F.cfa / 11,44 €

- Out of Africa :

10000 F.cfa / 15,25 €

Order the book