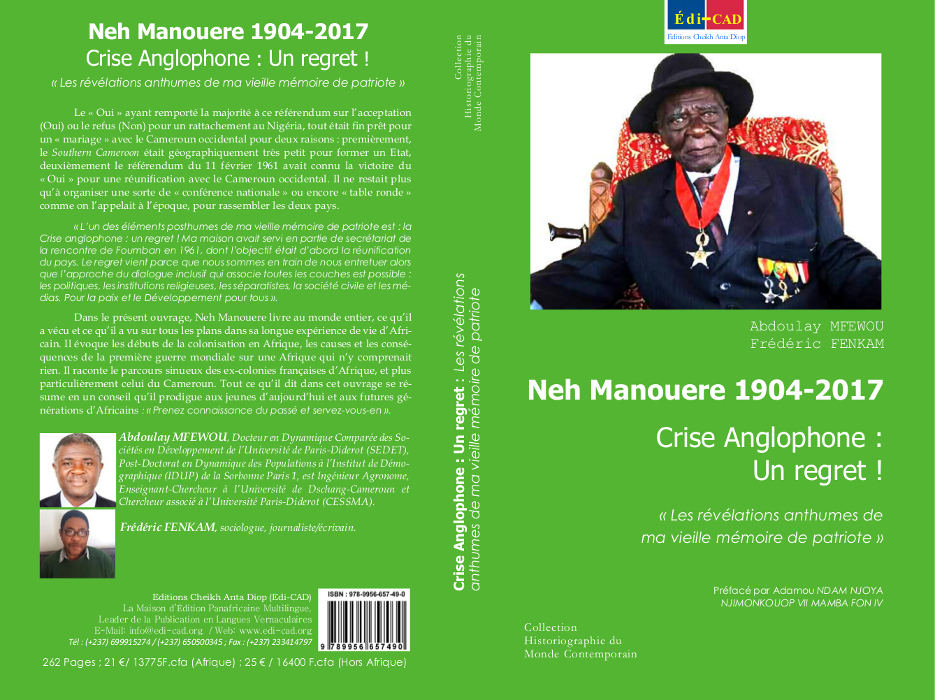 The "Yes" won the majority in this referendum on the acceptance (Yes) or refusal (No) for a connection to Nigeria, everything was ready for a "marriage" with Western Cameroon for two reasons: first, the Southern Cameroon was geographically very small to form a state, secondly the referendum of February 11, 1961 had won the "Yes" victory for reunification with western Cameroon. It only remained to organize a kind of "national conference" or "round table" as it was called at the time, to bring the two countries together. "One of the posthumous elements of my old patriotic memory is: the English-speaking crisis: a regret! My house had served as part of the secretariat of the meeting in Foumban in 1961, whose objective was first the reunification of the country. The regret comes from the fact that we are killing each other while the inclusive dialogue approach that involves all layers is possible: politicians, religious institutions, separatists, civil society and the media. For peace and development for all. In this book, Neh Manouere delivers to the whole world, what he has experienced and what he has seen on all levels in his long experience of African life. It evokes the beginnings of colonization in Africa, the causes and the consequences of the First World War on an Africa which did not understand anything about it. It tells the sinuous course of the former French colonies of Africa, and more particularly that of Cameroon. All that he says in this book comes down to the advice he gives to today's youth and to future generations of Africans: "Know the past and use it."
Abdoulay Mfewou, Ph.D. in Comparative Dynamics of Societies in Development at the University of Paris-Diderot (SEDET), Postdoctorate in Dynamics of Populations at the Demographic Institute (IDUP) of Sorbonne Paris 1, is Agronomist Engineer, Teacher -Scientist at the University of Dschang-Cameroon and Associate Researcher at the University Paris-Diderot (CESSMA).
Frédéric FENKAM, sociologist, journalist / writer.
Title
:

Neh Manouere 1904-2017. Crise Anglophone : Un regret ! « Les révélations anthumes de ma vieille mémoire de patriote »

Author
:

Abdoulay MFEWOU et Frédéric FENKAM

Editor
:

Editions Cheikh Anta Diop

Collection
:

Collection Historiographie du Monde Contemporain

ISBN-13
:

978-9956-657-49-0

Language
:

French

Number of pages
:

262

Size
:

15 X 22 cm

Publication date
:

February 01, 2019

Price
:
Africa :

13 120 F.cfa / 21 €

- Out of Africa :

19 680 F.cfa / 30 €

Order the book